Dogs are seemingly some of the most loyal creatures on earth. Once someone shows them kindness and affection, expect them to return that tenfold. They would do anything and everything to make that person happy and feel loved. If the opportunity comes, they would even risk their lives to protect their humans.
Take this brave dog, for instance. When the courageous canine spotted a shark swimming a little too close to her owner, she dived into the sea to chase the sea creature away without hesitation. If you are wondering who that heroic dog is, her name is Tilly, and she is an adorable kelpie.
A few days ago, Tilly was hanging out with her owner, Jack Strickland, in a resort called Haggerstone Island Resort in the Great Barrier Reef Marine Park. She was enjoying the sunshine while Jack was busy filming their trip. Suddenly, Tilly jumped straight into the water. As it turned out, she spotted a shark, so she leaped toward it to shoo it away.
The shark instantly noticed the pup and quickly changed its course to get away from Tilly. However, it seemed like Tilly was keen on proving why dogs are said to be man's best friend. She swam out a bit further, making sure that the sea creature had really left. After clearing the area of any more possible threat, Tilly returned to the dry land.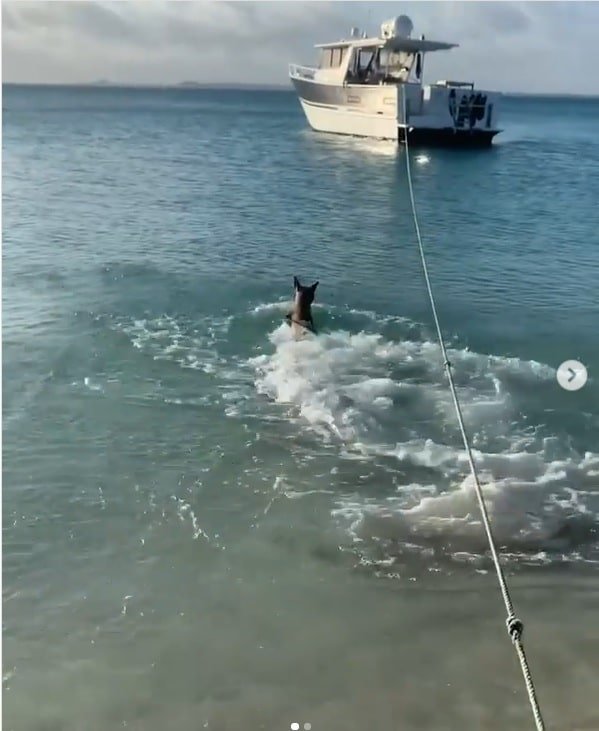 It is not clear whether Tilly received some treats for her heroic act. However, what is clear is that she has one proud parent. Jack posted Tilly's bravery on his Instagram account, saying his dog kept the sharks away from the resort.
Of course, people online have been praising little Tilly for her bravery. One commenter even noted how, at that moment, the hunter became the hunted. Indeed, Tilly is one awesome pup.
Credit: Back 2 Basics Adventures