Just like kids, dogs also love to play with toys. It keeps them occupied whenever their hooman is busy working or doing chores at home. Seeing how happy they get during playtime, it's definitely worth it to give them the toys they love.
But for stray dogs, they can only wish to have toys they can play with. Wandering in the streets, it can get lonely not having anyone to play with. Just like this stray in Kenansville, North Carolina who was seen going back and forth inside a Dollar General store.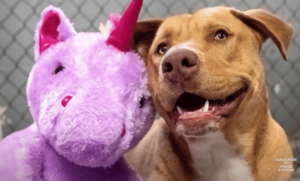 The stray pooch had been seen visiting and snuggling a purple stuffed unicorn inside the store. He had been caught trying to steal the toy before, not only once, but a total of five times. It looked like this doggo was really attracted to this fluffy toy.
When animal control officer Samantha Lane came to the store to bring the pooch to the animal shelter, she was amazed at how much this stray doggo wanted the purple unicorn. So she went ahead and bought the $10 stuffed toy for the doggo.
When the stray dog was brought to the animal shelter, together with his purple unicorn, the staff named him Sisu. They named the pooch after the purple dragon that looked like a unicorn from Disney's latest movie, Raya and the Last Dragon.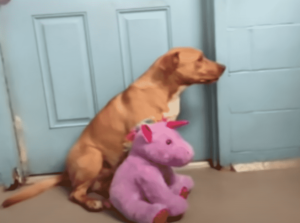 Sisu loves to sleep on the unicorn and be with it all the time. Whenever somebody comes to clean his kennel at the shelter, he would get worried if someone was gonna take his toy away from him. He just loves it so much!
Sisu's cute story had charmed a lot of people all across America. A lot of people had shown interest in adopting the doggo and the shelter has finally chosen the perfect family for him. Sisu and his unicorn will be moved to his forever home when he completes all his shots.
Video Credit: Inside Edition