Last summer, a construction crew was working on a parking ramp when they found a baby bird in a nest. They moved it to a safer spot, but the mother never returned.
After receiving a call about the situation, Sue Rogers, founder of The Mia Foundation, agreed to take the little orphan dove in.
Sue named the little bird Lovey. She planned on releasing her in a few weeks after she learns to eat and fly. However, whenever Sue tried to let Lovey go back into the wild, the little dove would always return on her deck after a few hours.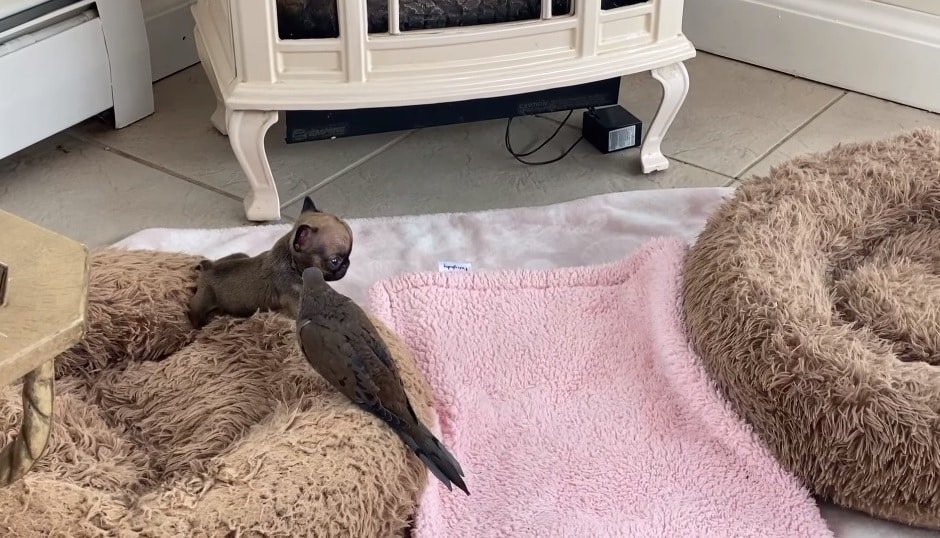 It was already fall, so Sue took Lovey back to her home to protect her from the cold. Although Lovey was free to fly wherever she please, she never took interest in the other animals there. Things changed, though, when the tiny puppy named Alfie arrived.
Although Alfie was already eight weeks old, his size was like that of a newborn. He suffers from several medical conditions like cleft palate, hydrocephalus, and possibly heart condition. Eventually, with Sue's love and care, Alfie got stronger and became more adventurous. But at 15 ounces, he was way too small for the other dogs in the house to play with.
Sue knew that Alfie needed to start socializing with others. So, she allowed him to run around the house with careful supervision. Lovey must have realized that another little orphan needed a friend. Immediately, she took a liking to Alfie.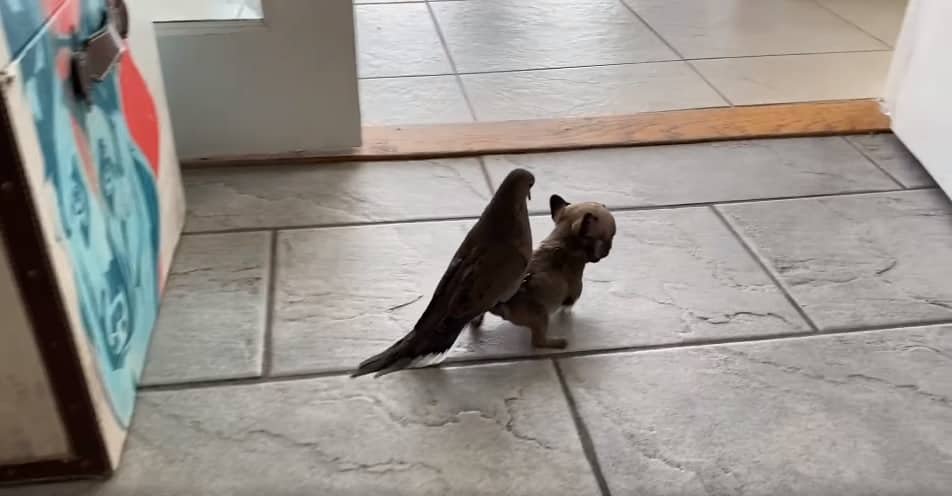 Lovey spends most of her time flying around the house but does not interact with the dogs. However, Sue noticed that whenever she puts Alfie down, Lovey would immediately fly over to the little pup. She wondered if Lovey thinks of Alfie as another bird because they are about the same size and have the same color.
Now, Alfie and Lovey communicate in their special language. They also developed a unique play style. When Alfie roams around the house, Lovey either follows him or hops onto him for a piggyback ride.
It seems that Alfie is grateful to find a friend in Lovey, and Sue could not be happier for the pair. Sue plans to release Lovey into the wild for her to find a flock of her own when the weather gets warmer. However, in the meantime, Lovey and Alfie will continue to enjoy each other's company.
Credit: The Mia Foundation – Love For Mia