It was just past midnight when the Crawford Township Volunteer Fire Department received a report about a sports car that figured in an accident. The strong impact flipped the vehicle upside down and it fell inside an open canal filled with water.
Fortunately, the driver and his passenger were quickly able to find a way out of the vehicle. When the responders arrived, the two persons were by the side of the road, frantically looking for something. When the firefighters asked them what was wrong, they said that their dog was missing.
What they didn't realize was that their pet was still inside their car.
Air pocket
The firefighters inspected the partially submerged vehicle and were surprised to hear a soft whimper coming from inside. 20 minutes had already passed since the accident and the dog could not have survived that long. Amazingly, the pooch was able to find a small air pocket under the car's floorboard and squeezed himself there. And because the vehicle was still sinking, they needed to get the pup out immediately.
Using brute force, the firefighters worked together to turn the car over. The responders also used a tow truck to pull it out of the canal. Once the vehicle was on dry land, they easily opened the door and took the frightened pooch out. The dog did not incur any injuries, but he was in a state of shock.
All is well
The North Carolina Highway Patrol arrived soon after and conducted an investigation. The driver, who also did not have any injuries, was placed under custody and taken to a detention center. They still don't have conclusive evidence of what transpired.
As for the dog, he was taken to a local shelter where a vet took a look at him, just to ensure that he didn't have any hidden injuries. He will be released to the owner's family once everything is cleared.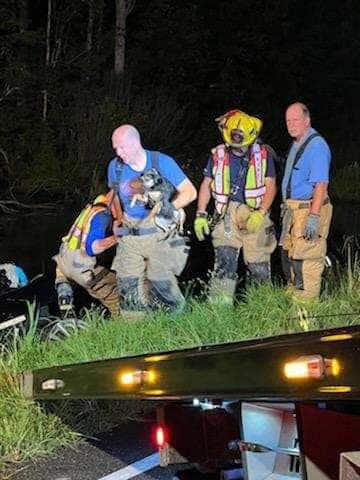 Source: Crawford Township Volunteer Fire Department Currituck, NC. via Facebook