So let me tell you a quick spoiler alert that this story hits home for me as I believe it will for you.
BEHIND THE SCENE SCOOP
I have a grateful friend named Courtney Grey, who loves life and pets as much as a million zookeepers combined. It always amazes me why he didn't become a zoologist or a veterinarian based on his love and knowledge for animals.
Courtney has animals that I would often keep my distance from for safety, yet he makes them so approachable. I mean just to list a few :
HEY DOGBEST FAMILY PLEASE CHECKOUT OUR  FUNDRAISER FOR COURTNEY AND SUBSCRIPTION HERE
Courtney makes us pet lovers feel grateful that we are all not all about the money, status, cars, or even the neighbor who we wish just turned down the music so I can watch my favorite Netflix series "Canine Intervention" in peace. I know that I cannot be the only one who feels this way at times. 
What impresses me more about Courtney when I spoke to him about his relationship with Chelsey, his loyal german shepherd/retriever mix who remains by his side. The bond he has with her is beautiful on numerous factors regardless of what is going to be revealed to you next.
DIAGNOSED WITH SQUAMOUS CELL CARCINOMA
You can feel the sudden emotional blow that Courtney Grey felt when he received the news that he has "Squamous Cell Carcinoma."
Here is a guy who lives life to the fullest, diligent around co-workers, always making time for his pets when he gets home from work, and seeks to inspire and encourage daily his friends/family on social media.
"It's A Fight That I Gotta Prepare For Daily."  He said, had me really thinking about life  and how we can often be ungrateful for not knowing what others are currently going through.
CHELSEY KEEPS ME GOING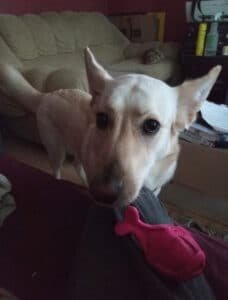 Courtney believes strongly in a Heavenly Creator and doesn't want to throw in the towel just yet. So with his medical expenses piling up, currently not able working, and pets in need of pet food? Chelsey reminds him why she and many of our dogs live up to the loyalty stigma heavily.
During this trial for Courtney, he reminded me of 5 reasons why Chelsey has become a second heartbeat for him :
-She understands his pain during this time
-She is by his side no matter what the outcome maybe
-She keeps him active on times he doesn't feel like being active
-She checks on him constantly, even during washroom breaks. Hey, which family member is willing to do that?
-She doesn't judge by his appearance but by enjoys his heartbeat pumping.
OUR FACE IS MASKED BUT NOT OUR HEARTS
Courtney truly appreciates the emotional support he has gotten from his friends and family but here @Dogbest  this heartfelt story he told me I need to do something.
You know in a time like this causes us as a human race to band together in love and gratitude.
So me and a few bloggers  put together Fundraiser for Courtney Grey to help with his expenses with Chelsey and himself at this time. Let us not keep our gratitude within but wear it outwardly by a grateful friend and family member of Dogbest in need.
As a token of appreciation here @ DogBest.Org, we have FREE GIVEAWAYS for anyone who contributes and gets more than THREE or more other people to do the same.
Here is the fundraiser link – RIGHT HERE. Courtney Grey appreciates this as 100% proceeds go directly to him as you get a reward because life is all about providing a WIN/WIN situation.